Back
AGCO Ennery, a logistics giant
Every month, Moselle Attractivity invites you to meet a key player in the economy, who innovates, invests, undertakes and succeeds without limits in Moselle. Meeting with Philippe Gehl, Director of the AGCO Sparex Master warehouse in Ennery in Moselle.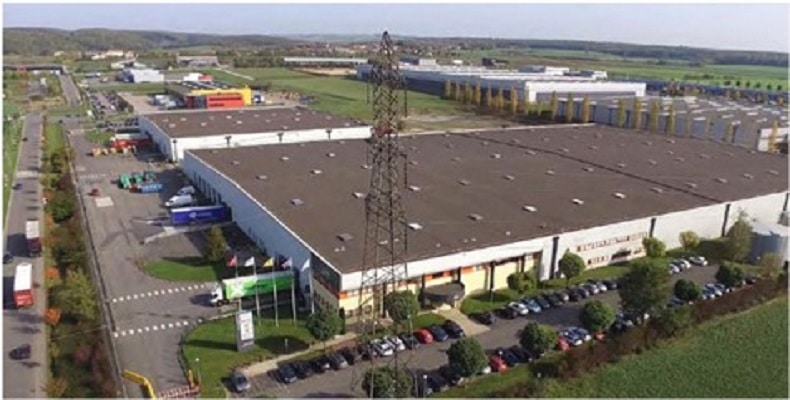 More than 300,000 references of spare parts for agricultural equipment destined for Europe, Africa and the Middle East are stored in the 120,000 m2 of the AGCO Ennery site in Moselle. A logistics centre that was further expanded in 2018 and accelerated its automation in 2019.
The AGCO Ennery hub
Moselle : a strategic location in the heart of Europe
AGCO is a world leader in the design, manufacture and distribution of agricultural machinery. Its products are sold through five main brands: Challenger, Fendt, Massey Ferguson, Valtra and GSI. They are distributed through 3,600 dealers in over 140 countries. And it is the site in Ennery (Moselle), which supplies Europe, Africa and the Middle East with spare parts for all the group's brands.
"350 employees divided into twenty departments provide our customers with a quality service on a daily basis. With the purchasing, supplier follow-up and customer service functions for the administrative part. Receiving, shipping and transport for the operational part" explains Philippe Gehl, Director of the AGCO Sparex Master Warehouse in Ennery and Sparex Logistics Director Europe.
Less than a year ago, the site was expanded. AGCO Ennery acquired a new 19,000 m2 building entirely dedicated to packaging, bringing the total to almost 120,000 m2 of storage space in six buildings. In 2019, the site will continue its move towards automation, with the purchase of several pieces of equipment: two Modula storage towers, a packing line (3D Packing Machine) and an automated storage and picking centre (Autostore).
These investments are in line with the existing dynamics on site since the creation of the site in 1995, with the opening of a first shop of 25,000 m2. Since then, the Ennery site has continued to grow. In 1999, a second shop of 8,000 m2 was built. In 2015, a third warehouse of 5,000 m2 dedicated to packaging was rented. And above all, in 2017, the surface area was multiplied by three with the development of buildings in the immediate vicinity, bringing the total to 100,000 m2.
A strategic turning point came in April 2018, when the AGCO group decided to refocus its entire Sparex business, one of its subsidiaries, in Moselle, to create its Master Warehouse. A regrouping that concerns the French, German and English markets. "Today, Agco Ennery has six buildings, 120,000 m2 and 300,000 references in stock", explains Philippe GehL
The geographical location of Moselle is of course not unrelated to this continuous expansion. "Located at the nerve centre of Europe, Moselle has a motorway and rail network that is essential to our business. Our customers are constantly asking for ever shorter delivery times and Moselle enables us to meet these demands efficiently", confirms Philippe GehL
The manager also praises the support of the Moselle Attractivité teams:
"It is an unquestionable partner in the development of growth projects, but also in the regular contacts with the Grand Est Region and the State. So we can look forward to the future with confidence.
Do you want to set up your company in Moselle? Don't hesitate to call on our services.
Découvrez d'autres actualités